After two days of lockdown, many retailers have wrapped up the last tasks on their to-do list and have firmly shut the doors, pondering what the next 3 weeks (and more) will bring.
The world has pretty much come to a complete stop overnight. McDonald's drive-thrus are desolate, rush hour is a thing of the past and you now have to queue to get into a supermarket, bringing back distant memories of standing outside a night club on a cold Friday night, only the slightly overweight and balding bouncer has been swapped out for a teenager in a high-vis Morrison's coat.
And despite all of this, the world hasn't really stopped at all.
In 2020, people are more connected to each other than ever.
Yesterday, I couldn't get in touch with one of my colleagues on his mobile. It led to a conundrum that many of us have in 2020 (but never had 5 years ago) – which sodding communication channel will give me the best chance of getting hold of him?
FaceTime Audio?
WhatsApp Audio?
My house phone?
Google hangouts?
Email?
FaceTime?
Skype?
Bugger me, I could even text him!
Now, he's 30 years old and pretty switched on when it comes to all things tech, so I wondered if, in the same scenario, I could say the same for my 75+ year old in-laws.
After pondering for a second, I quickly realised that minus Google Hangouts, yes, I absolutely could get in touch with my older relatives using these modern communication methods. The old folks aren't necessarily tech-savvy, but they use many of these communication methods to talk to their younger family (us) on a day-to-day basis.
I'm going the long way around in making my point today, but in case you haven't grasped it, it's in plain English below…
If you are not offering online/phone/video call design consultations in this period of lockdown then you really should be asking questions of yourself.
There are people in your locality who will be spending more time at home right now than they have in a good number of years…
Some of them will have been thinking of a new kitchen for a while.
Some of them will be sick of their bathroom.
Some of them will be pro-actively looking for a new interior.
Some of them will be marching down to your showroom when we get back to normality.
And some of them want to talk sooner and will happily do so through Skype or another video platform.
Don't underestimate your customer.
Many of you will disagree with my comments: 'You can't sell a kitchen over a video call', I hear you say. 'Wren can because they sell a simple product, ours is much more complex'.
Okay, I get your reservations.
But, I still don't think your reservations are valid.
In the next few paragraphs, I'm going to share some of the most common questions asked about online design appointments, how they work, and what tools you can use to make the process successful. But first, here are some of the biggest objections that I've had from retailers about online design appointments…
Common Objections To Remotely Delivering Design Services
"It is impossible to sell a kitchen without meeting a customer. It just can't be done – how would they give me the money?"
In truth, we can't see that much money will be handed over during this period of lockdown, but this isn't about making sales. This is about giving yourself the opportunity to make sales.
When we return to 'normal' and business is resumed, you will need to bring cash into the business. If you are starting conversations from afresh and have no sales momentum, the first two months are going to be just as hard as the previous two. This whole method of remotely carrying out design appointments is so that you can carry momentum through this period of lockdown.
"We don't want to be compared to Wren, Howdens or Wickes – this is the sort of low-class service they deliver."
Many retailers have already expressed that by carrying out an online service, they won't be able to deliver their usual levels of customer service and will be compared to the likes of Wickes, Howdens and Wren.
This is poppycock.
There is a pandemic going on and strict rules are in place to not get in contact with other people. Your customers understand that you are simply finding new and alternative methods of communication to carry on doing business.
"People have other things on their plate. No one will be wanting a kitchen at the moment."
Enquiries have certainly slowed down in this early period of quarantine, and search volume has been significantly down over the past few days. However, we expect to see an upturn in traffic and enquiries as people come to grips with being at home and find that they now have time on their hands. We've already seen enquiries come through for our clients – people are still out there looking for kitchens, just not in the number they were before.
"My target market is the older generation who aren't computer savvy. If they can't use a computer, what shall I do?"
You'd be surprised at how many of the older generations now use modern technology to stay in touch with their younger families. My older inlaws are FaceTime experts, and they are consistent users of email. Creating accounts, clicking links and working a desktop computer is something they're used to, and they're not the only ones.
In cases where people can't work out a video call, simply using email and telephone can be a great way to move forward.
"My manufacturer has stopped producing and I can't get hold of appliances anymore?!"
The same is true for retailers all over the UK. Production in Europe has (mainly) been put on hold and people will be empathetic with the situation. This doesn't stop you creating sales momentum, it simply means that you'll have to figure out a way forward when we get back to normality.
"My designers are all furloughed, and even if they weren't, they can't get into the showroom to access the network or design software?!"
We won't be giving any advice around furloughing and what staff can or can't do at home, but we will say this: There are cheap and easy-to-set-up methods of accessing your showroom desktop computers so that you can operate your design software and access key business and pricing files from the comfort of your own home. There are some more details on this later on in the email…
"How will I get accurate measurements of the room to create a design?!"
Many prospective customers will already have architects plans of their rooms and will be able to supply to-scale drawings. For those who don't, you'll be able to instruct them on how to measure the inside of their room. These measurements may not be as accurate as you'd like them to be (and they will, of course, need to be checked on a home measure at some point), but they will give you enough information to create a design and 3D render. Remember that this all about keeping sales momentum, and your job is to inspire your potential customers to take the next step when we get back to normality.
"Will I have to share my designs with people? What if they take them to Howdens?"
We've left the biggest question until last. The fear of sharing your designs with a potential customer. Aaagh!
The truth is that these are unprecedented times, and to succeed in times like this you must take extraordinary measures. You'll have your own views on this, but right now there is software available, often as an extension of your design package, that will make designed documents only available to view for a set period of time, such as 24 hours.
You don't have to tell people that they have a time limit, but they will simply just have to come back to you in order to access the files again.
Alternatively, you can simply present your design through one of the many free video call platforms that are available to us today, such as Whereby, Google Hangouts or Skype.
How The Video Appointment Would Actually Work
After reading through some of the frequently asked questions above, you're probably thinking about how some of this will work in reality. Now we're done with the theory, (I'm glad to see you're still with me on this), let's look at the more practical side of setting this up.
Of course, you may want to set up your own process, but here's a quick explanation of how we're working this whole process for our clients…
Awareness
Firstly, you need to make it blatantly obvious to anyone visiting your website, whether on desktop or mobile, that you are offering online design appointments. You'll see on the screenshot below that we are using a bright banner at the bottom of the screen and have also added it to the main navigation for one of our clients, The Brighton Kitchen Company.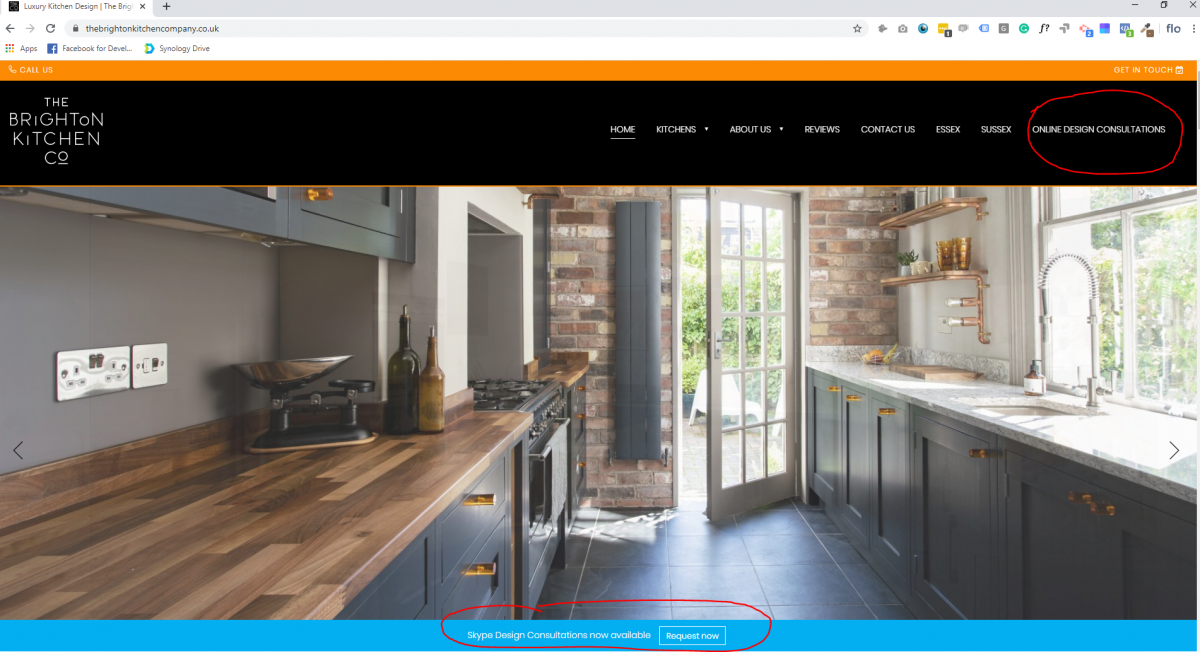 Landing Page
You will need to impart some information about how the online appointments work, so you'll need to create a landing page just like the one here on The Brighton Kitchen Company's website…
https://www.thebrightonkitchencompany.co.uk/online-design-consultations/
Deliberately, we haven't bombarded the customer with a load of details about the process. We've stuck with the essential information, which is this:
We ARE willing to design you a kitchen without visiting your house.
And that we CAN create a 3D render and ballpark quote.
Remember that this is all about maintaining momentum in the sales process so that when we get back to normality, you can hit the ground running. A ballpark quote is okay for now as long as you are clear with the customer that the quote is subject to change.
Form
You will, of course, need somewhere that people can leave their details to request the appointment. This should just be a simple form capturing the name, email, telephone number and a short message. Make sure to set up an email notification so that you know when someone has filled out the form…
Facebook Remarketing & Email Campaign
If no one knows you're delivering these design consultations, then you won't get any. We recommend putting together a Facebook Remarketing campaign to boost awareness with people that have recently visited your website (For more info on setting up Facebook Remarketing follow this link: https://www.flo-marketing.co.uk/setting-up-facebook-remarketing-for-your-kbb-business/)
Email is also a great way to let your current leads know that they can progress with conversations even though the showroom is closed.
Tools For Making Online Appointments Work For You
Remote Access To Your Showroom Computers
There will be a need for some of your employees to access their desktop computers from home. Remote access applications such as TeamViewer can be great methods for you and your designers to access key design software and sales-critical files to help them with creating designs at home.
Someone will need to access the showroom to install software onto the machines and liaise with the designers to make sure everything is set up correctly, but this should be a one-time job, and well worth the time investment.
See a link here on how to set up TeamViewer on your machine: https://www.wikihow.com/Install-Teamviewer
Video Call Software
We've had many questions about the best video software to use that makes it as easy as possible for the client. Skype has been mentioned, but it can be hard for someone who isn't computer savvy to set up an account. Whereby is a great solution, but has been known to have issues with Macs. Google Hangouts is one of the easiest tools, but made a bit harder if the people on the call aren't Google Chrome users and prefer Internet Explorer, for instance.
My advice would be to take each case on its merits. Before organising a video call, ask if the recipient has a preferred platform. Ask them what internet browser they use, and ask them if they are on a PC or Mac. For anyone on a PC, Whereby is the easiest answer – you simply send the person a link, they click it and enter straight into the chat. If they are on a Mac, Skype can be easier, although new users of Skype will need to create an account.
"In this unprecedented time, the ones that succeed will be those that can be nimble and adapt the wants and needs of their customer."
Pitfalls To Avoid When On A Video Call
TEST, TEST, TEST!
One of the most frustrating things when organising a video call is problems with technology. If you are 15 minutes into the arranged call time and are still faffing about with the software, the client will be frustrated before you even start.
The answer here is to do your homework and test this with colleagues before the call to iron out any creases and be prepared for what could go wrong.
Telephone/Computer Audio
Often, you'll be talking to the prospect on the telephone when you are starting the video call. If you find yourself on the phone at the same time as the video call is live, you'll hear horrible feedback and the sound will be majorly impaired. Do one of the two things to avoid this…
If both parties have microphones on their computers and they are working, put the phone down and talk through the computer.*
If either party has a problem with their microphone, mute the computer's microphone by clicking the 'mute' button in the call and simply talk on the phone instead.*
*If you are talking to more than one person, it's best to use the computer's audio so that everyone can easily be involved in the conversation.
The Prospect Hasn't Got A Webcam. What Shall I Do?
If the prospect hasn't got a webcam, don't fret. It doesn't actually matter if you can't see them, but it is important that they can see you.
Image Quality
Although people will empathise that you are in your home setting, it is important that you make yourself and your surroundings look as professional as possible. Everyone has been on a call with someone where they have a light behind them and all you can see is a dark silhouette. It looks naff, and there are some simple ways to avoid this.
Think about how the user is going to see you, and make sure you are in a well-lit room with light shining onto your face, rather than the light source coming from behind you.
Using Chat To Send Links
On the call, there might be instances where you need to send links to specific web pages to people (your range of appliances, Quooker Taps, etc).
Rather than asking the user to search for the pages you are referring to or spelling out painfully-long URLs, simply use the chat feature where you can send links directly to them. Make sure to familiarise yourself with this handy feature before you go on the call.
Screensharing & Preparation
 For the more technically astute, there may be times that they want to share their screen with you in order to show you their online scrapbook or some design inspiration. All of the video call software that we have recommended (Whereby, Skype, Google Hangouts) come with screen sharing facilities, meaning both parties can use it see what's on the other person's screen.
We'd recommend preparing links and windows to share with prospective clients ahead of time, rather than trying to do it on the fly – it makes for much less waiting around!
Let Us Implement This Whole System For You
Like many other companies out there, we are diversifying our offering in this unprecedented time. As well as helping our clients through this, we now offer a service in which we will implement all of the above for your company.
The whole service includes…
Setting up a landing page
Creating awareness on your website
Creating forms
Setting up notifications
Creating a Facebook Remarketing campaign for promotion purposes
Online video platform training
Hand-holding throughout the quarantine period
This service is available to all retailers in the UK. The complete package is £999+VAT, but all KBSA members can get this for £399+VAT.
To find out more, please give us a call on 0121 405 6780, or simply email us on info@flo-marketing.co.uk.
Thanks, and good luck with everything. It's a strange time, but through this pain that we feel right now, good things will come.
Talk soon,
Mike & the team at Flo