Your business is defined by the number of new leads and sales you can generate, so we wanted to give you a helping hand.
Here's your complete guide to setting up Facebook remarketing for your Kitchen and Bathroom business. If at any point you don't understand something or you need a hand, you can reach us on 0121 405 6780 or send us an email at info@flo-marketing.co.uk – we'll be happy to help.
About Facebook Remarketing
Remarketing is a technique that allows you to show tailored adverts to people who have already visited your website but who didn't convert into an enquiry or sale. It's an extremely effective way to bring additional sales and revenue into your business.
If you're not familiar with remarketing, you would have probably seen it done before on the internet. Remember that pair of shoes you were looking at on Amazon? Did you think it was weird that they were suddenly on Facebook too? Well, that wasn't by chance… That was remarketing!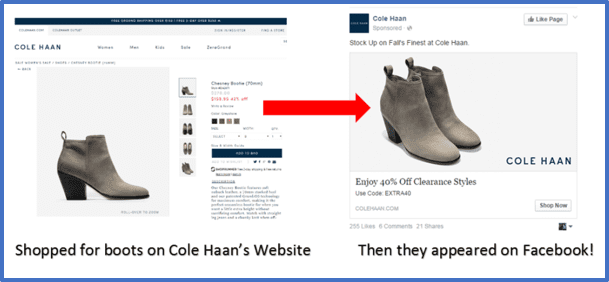 How To Set Up Your Facebook Remarketing
So, how do you get started with Facebook Remarketing? Here's a step-by-step run through for you…
Step 1: First, you're going to need to put a 'Pixel' on to all pages of your website and any other landing pages you use. Log into your Facebook Ads Manager account and select the "Tools" dropdown and select "Audiences." Then select "Create Audience" and "Custom Audience."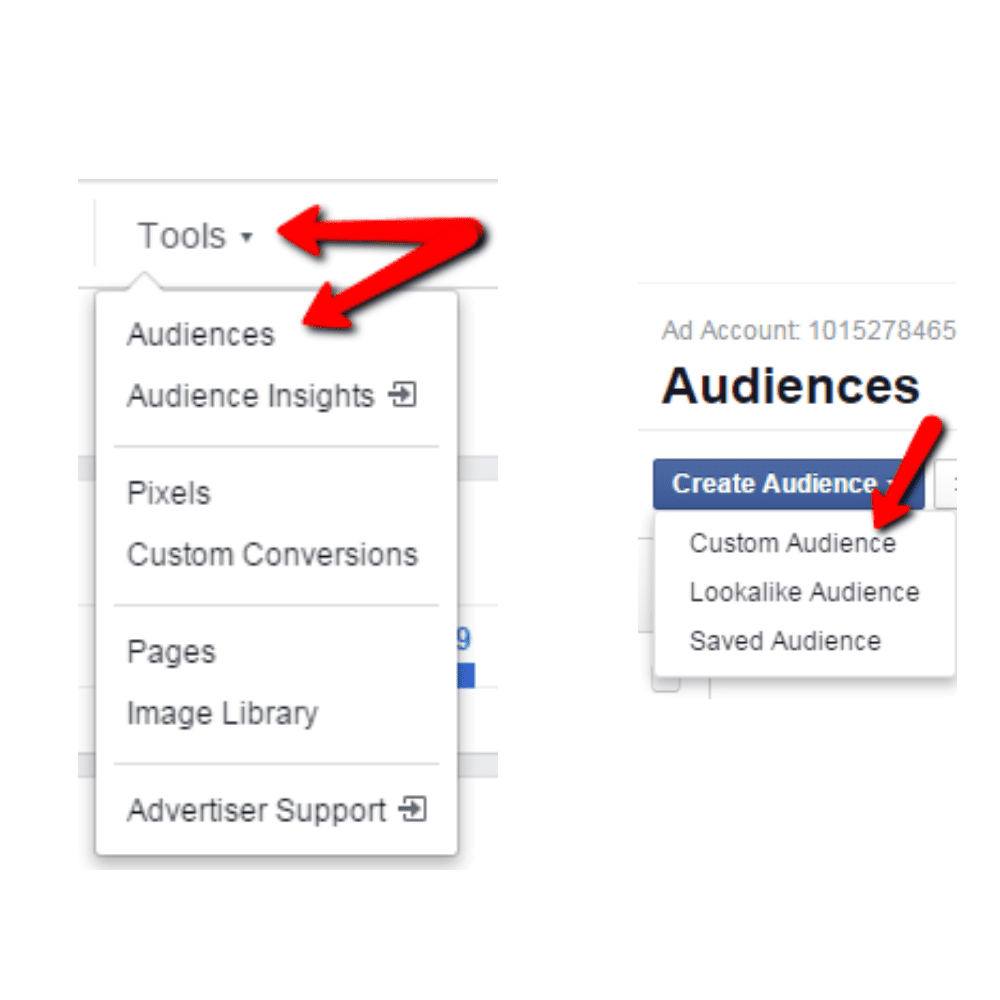 Step 2: On the next screen you can choose which type of remarketing list you want to create, but for now you want to select 'Website Traffic'. You will now need to create and install a 'Pixel' on your site. Go back to the "Tools" drop-down at the top of the page. Select "Pixels". Select "Create a Pixel". Name and create your pixel.
If you're not in charge of placing code on your site, get in touch with your developer and have them place the pixel between the <head> tags on every page of your website. The pixel won't start working until you've created a custom audience in Facebook Ads Manager. There are multiple instructional videos on YouTube onto how to do this, but we would really recommend getting your web person to do it for you!
Step 3: Now return to the "Create a Custom Audience" screen and select "Website Traffic." On this page, you can decide the parameters the site visitor must meet in order to get remarketed to. For now, you'll want to pick "All Visitors". Name your audience "All Visitors".
Step 4: Once your audience is larger enough, it's time to set up your adverts (remarketing audiences need to include at least 20 people before they can be used for ads- this may take minutes, hours or a few days depending on how many visitors your site gets). You'll know when an audience is large enough when it has a green light and 'ready' next to it in the Audiences section of Ads Manager (see below).
Head to "Ads Manager", and then click the green "Create" Button. Select "Lead Generation" from the menu and give your ad set a name. Choose your Facebook Business Page from the drop-down menu. Choose "All Website Visitors" (or whatever you called your audience) in the "Custom Audience" box. You won't need to set up any more targeting now as this will target all of the visitors to your website irrespective of their demographics. In regards to budget, around £5 per day is probably a good place to start.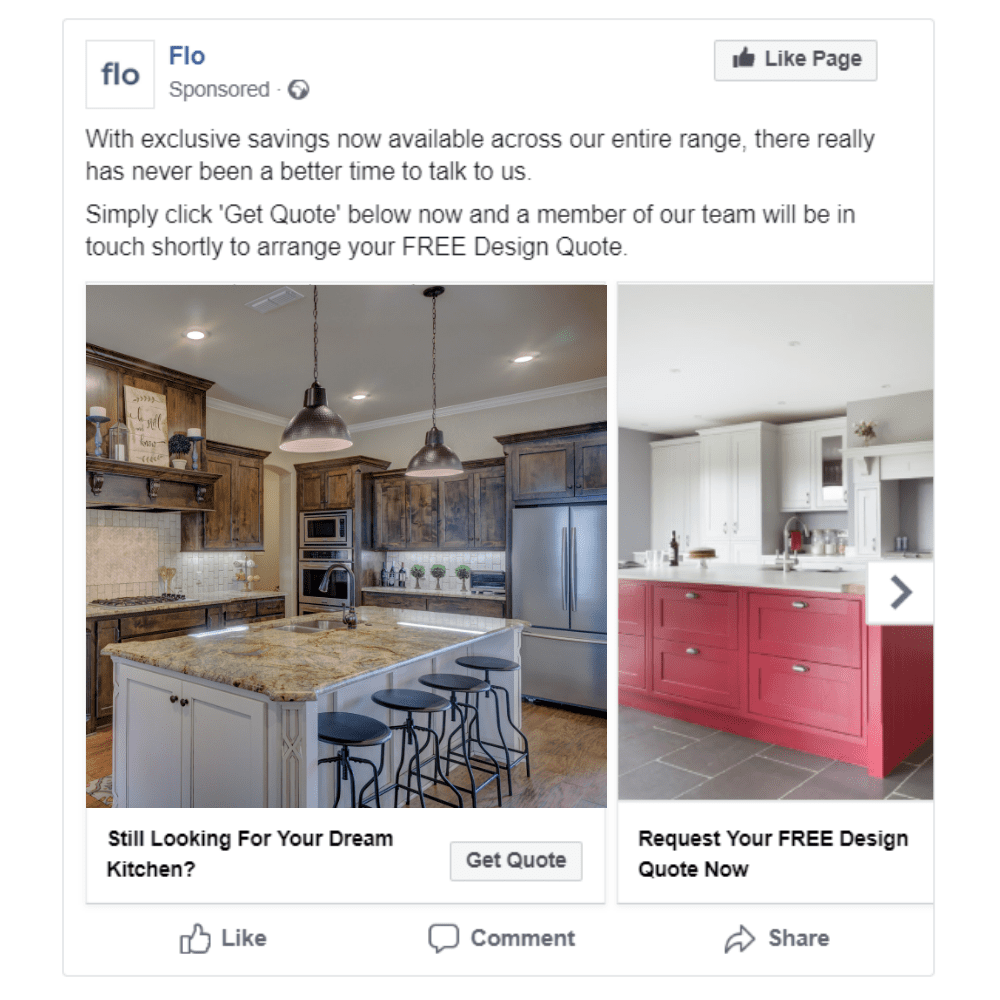 Step 5: Now you can start to set up your advert. Start by selecting a format of advert. Here, we advise choosing a "Carousel" format as it's a great way to show multiple images to a user. Then choose some of your strongest images and pick a headline, advert text and a call to action button. You'll see some examples of good adverts above and below which are currently getting results.
Step 6: The type of advert we've set up is called a 'Lead Ad'. This type of ad works by the person clicking on it and then submitting their data via a pre-filled form (below right). This data then automatically goes into a list for you to download at a later date.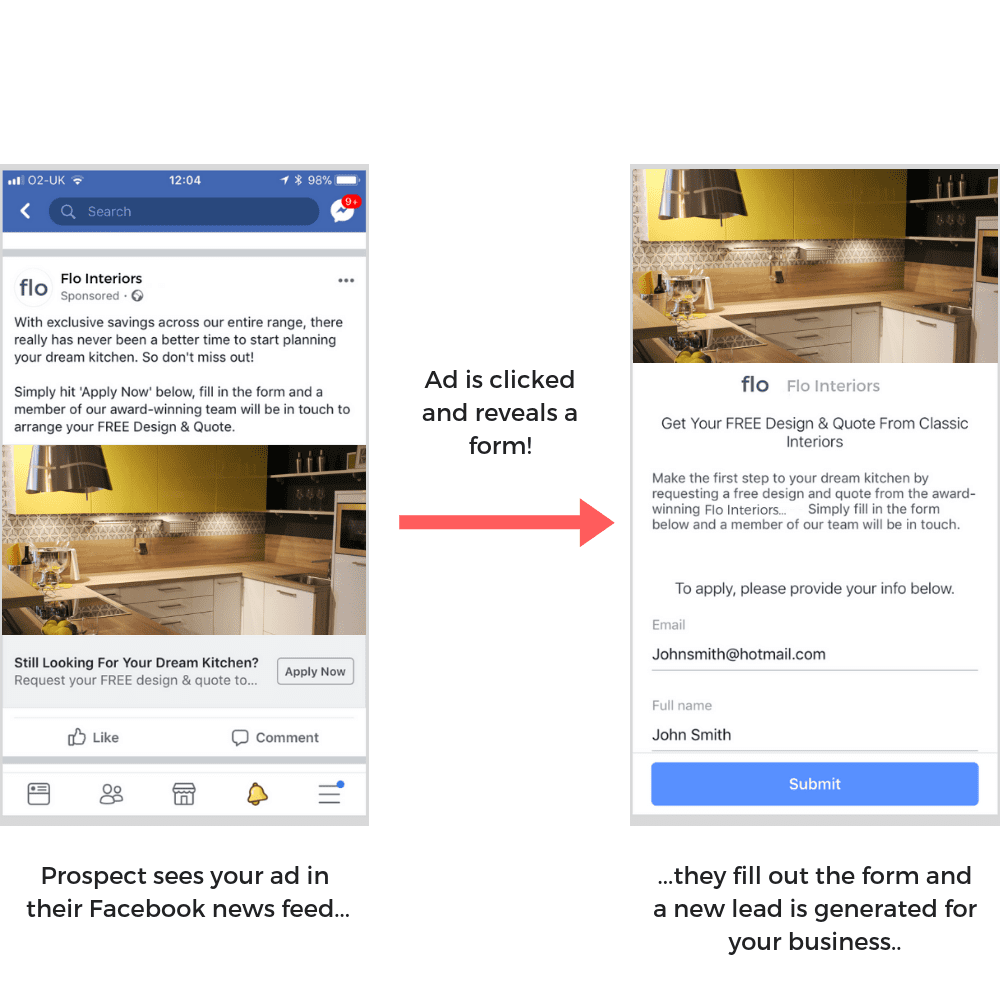 You can download these leads periodically by going to the Facebook page that's connected to your ads and click the "Publishing Tools" tab at the top. From there, click "Forms Library" on the left side of the screen. Keep in mind that you need to have admin access to view forms.
On the right, you'll see all of the forms that you've created. Click the "Download" link next to your form to download your leads in CSV format.
Troubleshooting and What To Do Next
Sometimes adverts don't get the results you expected straight away. Sometimes they flop, and that could be down to several reasons. If your adverts aren't performing as you expected, give us a call here at the Flo offices on 0121 405 6780 and we'll help you out.
But for now, we wish you all the best for your first Facebook Remarketing campaign!
The Team at Flo